I have to apologize for my absence! It's 3:43 AM and I am posting a blog...ok, I just erased that and thought it'd be funny to share, that while I am posting a blog, I'm actually doing a little online shopping...a little for me...a little for a client, but whose counting. So, I have to share with you all my LUST LIST. I'm coveting these items in a way that is probably not healthy, but I just want them so desperately!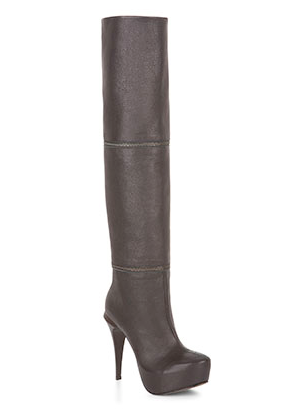 This boot is awesome because you are getting 3 heights for the price of...well, 3 boots. But no matter, here it is in 2 of the heights, ankle and knee-high worn with some of my favorites from Max Azria's spectacular Fall Collection.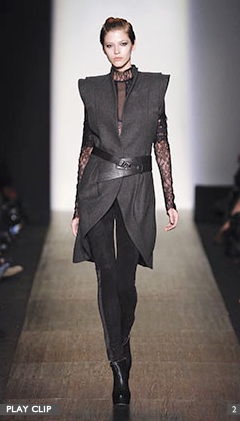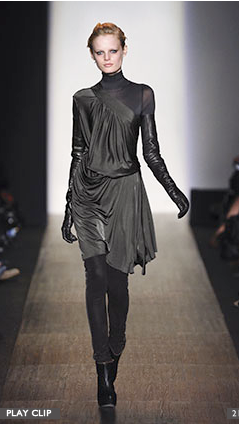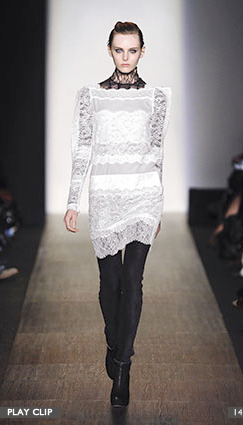 (Off the subject, but a great tip: what really makes these outfits extra spectacular is the way they paired the "extras" with the main piece. For example, the white dress, black mini, and the felt asymetrical vest, all have the same lace turtleneck layered underneath and the black one shoulder dress has a sheer knit turtlenck with it. The leather gloves, suede leggings, turtlenecks really give the look "the look". You can try this for a much lower cost with a sheer long sleeved black tee and a dress in your own closet. Pile on the gloves, leggings, boots until you find a good balance for you. Remember, unless you are a size zero, layering can make you look bulkier than you are so layer with very sheer fabrics.)
As far as jackets go, I'm torn between a drapey, asymetrical Helmut Lang jacket that is similar to this one. It is partially a soft leather and partially wool.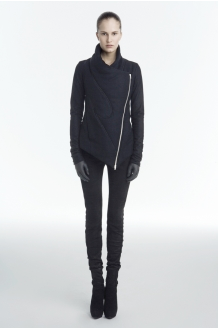 OR this washed leather biker jacket (in black) from Rick Owens.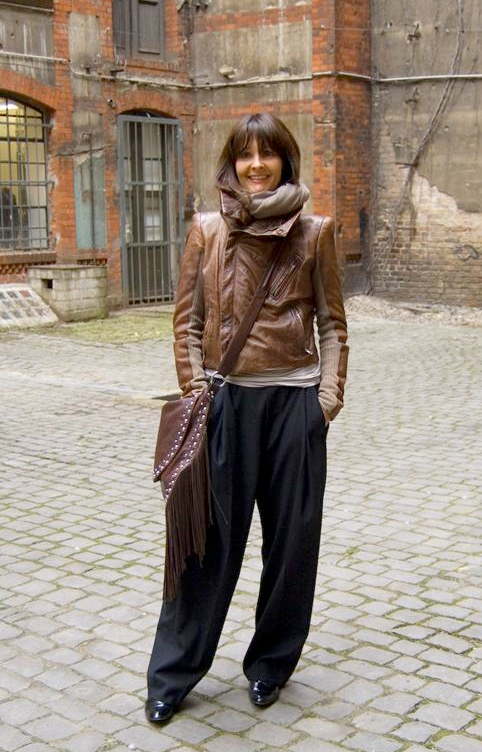 Clearly, the latter is a bit more special...for A LOT more price tag. Either way, it's gorgeous and I plan on saving my pennies.
I also have a dilemma because I am wanting these Prada pumps...eeek!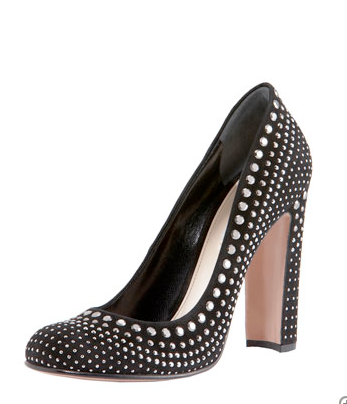 Time to start looking for "the look for less". But I will keep you aprised on my SPLURGE(s)!
Hope this post has wetted your appetite....til my next nightime online window shopping binge!