So, I was picking out some wine for a dinner party and I picked up a brilliant tip from my guy at Midtown Wine and Spirits. His money saving tip will allow me to save some cash (in this lousy ecomony) and free up some more cash for my clothing budget! So what's the scoop? He always makes a point to look up the menu of a restaurant he is planning to go to and see what they offer on the wine list. He then picks a wine that will pair well with the food and brings his own bottle...or two! By going this route, he saves a significant amount on his bill and enjoys gorgeous bottle of wine while paying a nominal 10-20 dollar corkage fee. Most restaurants are very open to this and the corkage fee is minimal. In the end, he pays a lot less and gets to drink a better bottle of wine!
You may wonder what wine and fashion have anything to do with each other, but besides implementing this tip to free up more cash in the budget for fabulous clothes, wine and fashion have always been a perfect pair. Over the years wine, champagne and fashion have made a decadent trio.
Karl Lagerfeld made a match with Dom Perignon in 2006 and 2007 shooting a campaign with first Eva Herizgova and then Claudia Schiffer in 2007. The fashion and the staging is sexy and edgy (if not a little chauvinistic) but the pairing made a beautiful collaboration.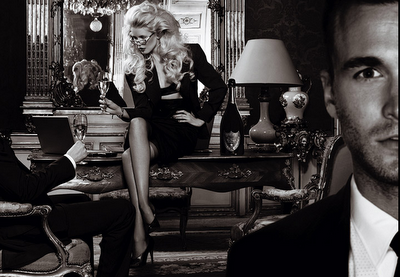 So, next time you are hitting a new hot spot in town, bring a bottle of your favorite bubbly or rich red and save a few bucks. Spend that extra cash on a great clutch....or your mortgage (reality may kick in)!