I got a style question via facebook the other day and I'm all set to tackle it on this beautiful memorial day! After which, I'm heading out for a long hike!
Anyway, my stylish friend Nerissa is about to purge her closet of any pieces that may be dated and asked for any ideas on what I would throw out and what I would keep. I was sneaky and went to her facebook pictures and started looking through what she already (likely, still) has in her closet. Now, she has such a great body that she can make anything look good, even if it's dated, but several pieces just need to be reworked for 2009 and some items, she just needs another set of eyes to confirm that she's got to let 'em go!
I know that plenty of people have a pair of beat to the street pointed toed stileto pumps like these, and while you can always hide them under a long pair of trousers, this toe is not the most fashion forward and you may as well toss these and purchase a new pair when they come back in vogue. A more a appropriate pair of pumps (especially for the summer) is the "jacky" pump from Banana Republic, which I've posted before for it's perfect shape and ultimated comfort!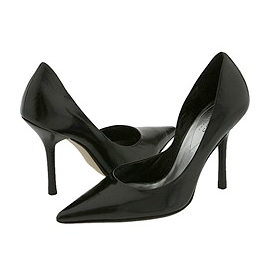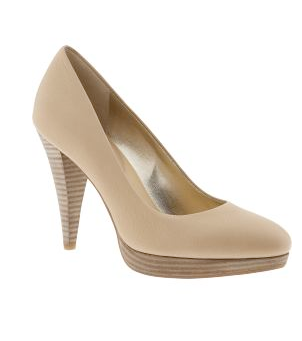 One of my pet peeves are the halter top, polyester, sequined tops from the early/late nineties that ladies everywhere (myself included) sported to the clubs. If any of those are hiding in your closets, I think it's safe to say that they will never come back in style, quite like that again. In fact, I searched the internet to find an "example" and couldn't find a single one. So, I don't know where people are finding these gems, but I propose we burn them, and replace them with a sophisticated number like this Robert Rodriguez ruffled halter or this hipster fringe Free People top. Either one has great detailing and can be worn day or night.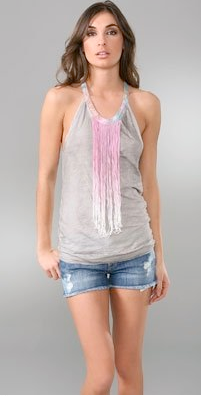 A couple years ago, everyone was putting out their version of the all-over sequined dress. It can be hard to throw out a dress that you spent good money on, so the good news is, you can wear this trend in a new way today!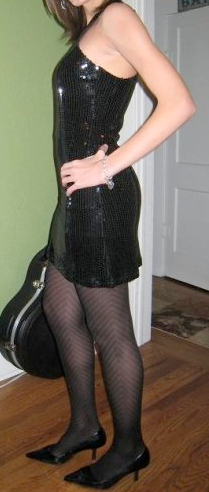 Take your sequined dress and loose the tights (obviously for the summer!) and add these nude, strappy, statement-making shoes (Chinese Laundry from Zappos.com).
Throw on vest or blazer....I stinkin LOVE this vintage 80's blazer (found on etsy.com) for it's cropped properties :)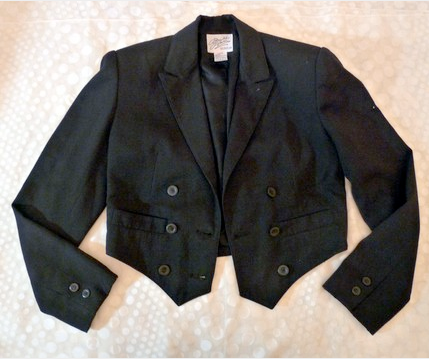 *sigh* I really love this jacket but alas, it's a little small for me...someone buy it and enjoy it!
Lastly, if you own shoes like these:
...you can toss 'em. We can really do better when it comes to a casual, springy sandal :)
While we are talking about styles that are "out", I should also mention, that like the black, pointed toe, pump, boots of this nature should also be retired. If they are in good condition, store them away until they come back in style.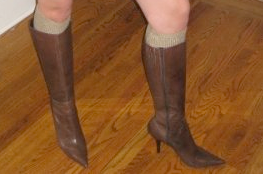 Trucker hats, Ed Hardy T's, and jeans that have lost their shape, all go into the "toss" category, as well as anything made in a fabric that has lost it's shape or is all "bally". White T's and button downs that have a stain or two, but you have been hanging on to, for whatever reason, must also be trashed, UNLESS, you have DIY capabilities and can dip-dye them! See
Jessica's blog
for her useful tips!
Sometimes, people have old suit blazers in their closet from the days of wearing serious matchy matchy suits to the office. Some of the blazers may be able to be tailored to make them less boxy and more up-to-date. If you are unsure if your blazers are good candidates for this process, send me a picture of you wearing your blazer.
Always, examine your clothes and think about ways you can bring them up-to-date before you throw them out. For example, you could hem a dress to make it a more appropriate length or take your favorite jeans and turn them into your favorite new pair of denim shorts.
Good luck Nerissa...and all of you out there who are re-vamping your wardrobe! Email me, leave a comment or contact us through our website, Panachestylists.com!
Happy Memorial Day,
Kyah